Insert Molding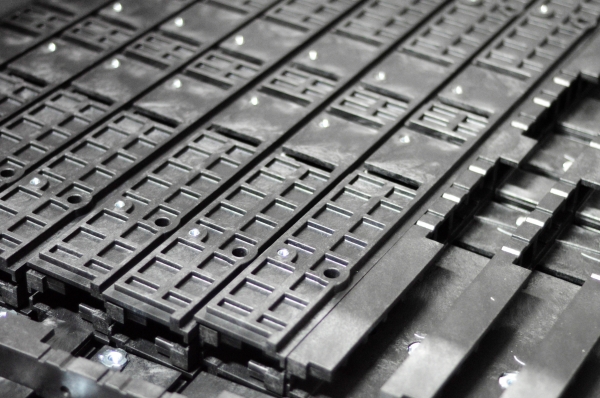 Insert Molding is a specialized type of molding application that Lomont Molding LLC (Lomont) offers to those customers who need a precision part coupled with non-plastic inserts. The inserts are loaded by robot into the tool prior to the part being molded. The inserts can be as simple as a screw or clip. They can be as complex as a motor or an electronics panel. It is not necessary to think of only those standard insert applications when looking at Lomont for your insert molding requirements.
The tolerances involved in a standard insert molding project are usually quite exacting. This requires a company that can give your project managers the guidance they require to insure a precise part. A deviation of even a few thousandths can make the difference between correct fit and function.  Our outreach to the vendor community allows us to source the perfect inserts for your requirements. We work with your project managers to insure that all bases are covered before we write the specifications. Whether our customers furnish the inserts or Lomont sources the entire project, you can count on the project being done according to your design.
Many projects require secondary assemblies that use products such as adhesives, soldering and various fasteners. With insert molding, the secondary assembly work associated with much of the post molding operations is eliminated. There could be reductions found in weight and size of the end product as well. Insert Molding gives you products that are more shock and vibration resistant. It can also increase the strength of your part.
Insert Molding uses most standard Thermoplastics in our molding processes. We can specify the exact plastic your project requires. Whether you require a nylon, polyethylene, polystyrene, ABS, polycarbonate, or any of the engineered resins, Lomont has the necessary expertise to see that your project has the right materials to make it happen the correct way.
Lomont molds for a wide variety of industries. Many of these have requirements that require a molder who has broad experience in insert design and function.
Our current client base covers the following industries:
Refrigeration
Automotive
Agriculture
Consumer Products
Medical
Electronic