In-Mold Decorating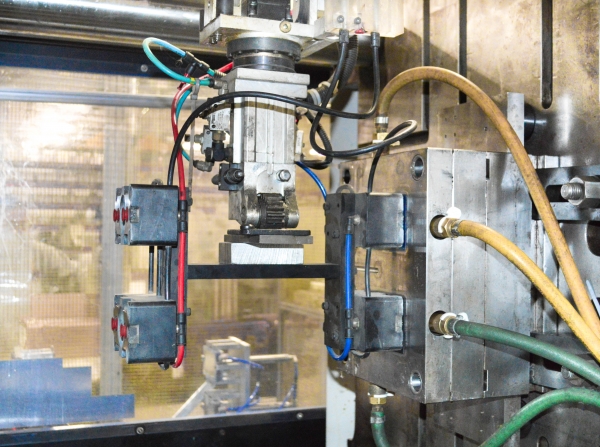 In-mold decorating is a process for producing in-mold labels and graphics within a plastic enclosure. This in-mold labeling process usually takes place during the plastic injection molding cycle.
In-mold decorating takes place when a preprinted label or decorated piece of labeling plastic is inserted in the open plastic injection mold and held in place via vacuum ports, electrostatic charge or another method. The plastic injection mold is then sealed, and plastic resin is then injected to mold the part, which encapsulates the decoration, or label, permanently within the finished injection molded part.
In-Mold Decorating Plastic Advantages
There are numerous advantages associated with in-mold decorating and in-mold labels. This type of permanent graphics technology provides increased design flexibility and productivity over other methods. This includes the use of multiple colors, effects and textures in a single operation, long-lasting and durable graphics, and overall labeling and decorating cost reductions.
In-mold decorating, which provides enhanced graphics in plastic, provides complete labeling and decorating within the complete plastic injection molded process. This means that secondary operations are no longer required, which eliminates post-molding labeling, decorating labor and equipment costs.
Additional Permanent Graphic Benefits
The use of in-mold labeling plastic results in advanced quality visually impressive graphics and finished parts. Since they are encapsulated within the labeling plastic the graphics become incredibly durable and long lasting. Subsequently, the in-mold labels become permanent graphics within the plastic and are essentially impossible to remove without destroying the plastic part. Additionally, in-mold labels and graphics in plastic will not fade. They will remain visually appealing for the life of the molded plastic part. Other benefits associated with decorating plastics include:
Ability to print complex graphics on irregular surfaces
High quality and visually impressive graphics
Ability to achieve high abrasion and chemical resistance using special hard coatings
High durability of decoration due to second surface printing
Elimination of secondary labeling and decorating operations and costs
Label inventory reduction
Wide range of colors, effects, textures and graphic options
Increased finishing & forming capabilities
In-Mold Label Applications
In-mold labels and decorating plastic is used for a wide range of industrial applications, some of which include:
Medical & Pharmaceutical products
Electronic devices
Telecommunication equipment
Computer parts
Appliance panels
Automotive parts
POP display components
And many more
Lomont's In-Mold Decorating Process
Lomont's in-mold labeling process is primarily accomplished using robotics. Our process provides a surface coating that is abrasion proof, scratch resistant and permits a diversity of colors. It also will enable two-dimensional decoration and symbols on components with complex shapes.
Our robotic machines can complete finished parts in a single operation. This method is very flexible in its application and permits parts to be generated with specific surface characteristics. Lomont provides a wide variety of ways to implement technically demanding, economically interesting, and sensible applications through In-Mold graphics.
Due to its flexible nature [combination of plastic injection-molded part and functional film], In-Mold Decorating offers interesting solution options for your next permanent graphics project campaign.
In-Mold Decorating is a Green Process
As an added benefit in-mold decorating and in-mold labeling can be considered a green process since the molded component is recyclable when using similar stock to injection molding resin. Printing is also much cleaner and emits lower levels of volatile organic compounds when compared to other application methods such as spray coating technologies. Additionally, the in-mold process often produces significantly less scrap than other methods such as adhesive labels because the decorated insert is shaped to fit precisely into the mold, so the position or registration of the graphic is highly consistent and permanent.
Contact Lomont Today
Contact us for more information regarding our in-mold labels and decorating plastic processes, or request a quote today.